You've had a great night's sleep, filled with dreams in which you were 20 years younger, 20 pounds lighter, and had just won the lottery. Contemplating all the wonderful opportunities the new day will bring, you swing your legs out of bed and take your first step. Suddenly you're back on the bed, felled by a shocking burst of stabbing pain through your heel.
As you go through the day, the pain subsides. But each time you take a step after a period of inactivity that gasp-inducing heel pain strikes again. What's the problem, and what can be done about it?
Here's some information about the condition that's most likely responsible for your heel pain in the morning, and what you can do to get some heel pain relief!
What is plantar fasciitis?
The plantar fascia is a thick band of tough connective tissue known as collagen. It runs along the bottom of your foot, from your heel to the base of your toes. It's an elastic shock absorber that puts the spring in your step. When the plantar fascia becomes damaged and inflamed, the resulting condition is known as plantar fasciitis.
What are the symptoms of plantar fasciitis?
The primary (and often the only) symptom of plantar fasciitis is that sharp heel pain. It's at its worst first thing in the morning, or after a period of inactivity. You may have heel pain after (but not during) exercise that stresses the feet.
What causes plantar fasciitis?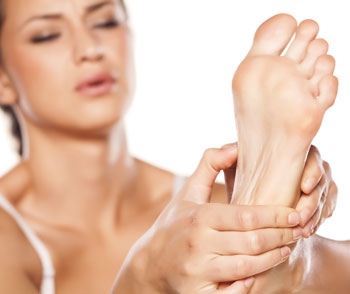 One of the factors that increase the risk of plantar fasciitis is increasing age. Repetitive strenuous activities that place a lot of stress on the fascia, such as long-distance running and ballet, can also play a role.
The anatomy of your foot can make you more vulnerable. Flat feet and high arches are both associated with plantar fasciitis. Obesity and occupations that require workers to be on their feet for extended periods are other factors that make plantar fasciitis more likely.
Whatever the cause of the excess tension and stress on the foot, the result can be frequent small tears, irritation, and inflammation in the fascia.
How to treat plantar fasciitis at home
Treatment of plantar fasciitis begins with conservative measures. Taking a break from whatever activity is causing stress on the foot gives the fascia a chance to heal on its own.
Immediate treatments for heel pain include over-the-counter pain relievers (such as ibuprofen, naproxen, and acetaminophen), rest, and icing the heel.
Shoe inserts for plantar fasciitis
Insoles and orthotics give you extra cushion and added support. They can be purchased over-the-counter or custom-made. Good arch support will help keep the fascia limber.
Initiating a program of home stretching exercises is often helpful. We recommend using a belt stretch before getting out of bed to flex the ankle and stretch out the fascia, the Achilles tendon, and the calf muscle.
Plantar fasciitis slippers
We also suggest the first steps of the day be taken in slippers with arch support. A Birkenstock Boston and Vionic Gemma are good options to try.
Plantar fasciitis night splint
A night splint gently reconfigures your foot and stretches the calf muscle and Achilles tendon as you sleep. Reducing tension in the fascia helps reduce pain in those first steps in the morning.
Professional treatment for plantar fasciitis relief
Your heel pain may lead you to see a foot specialist. Advanced technologies such as ultrasound, neurosensory testing, and Advanced Extremity MRI can determine what's causing the pain.
When that diagnosis is plantar fasciitis, a program of physical therapy will improve your foot mechanics and reduce stress on the foot. Icing, application of heat, and massage are likely components of your individualized physical therapy program.
Advanced treatments for plantar fasciitis
More advanced cases of plantar fasciitis may require cortisone steroid injections to calm the inflammation and reduce the consequent pain. Other advanced treatments include:
Surgical intervention for plantar fasciitis
Most cases of plantar fasciitis respond well to conservative and minimally invasive treatment methods. Only the most severe and chronic cases of plantar fasciitis require surgery. The surgeons of UFAI have perfected the endoscopic plantar fasciotomy techniques which combine the maximum improvement with the shortest recovery time.
Why choose University Foot and Ankle Institute for your foot and ankle care?
If you're experiencing foot problems, we're here to help. Our nationally recognized foot and ankle specialists offer the most advanced podiatric care and the highest success rates in the nation. We are leaders in the research and treatment of all foot and ankle conditions.
For more information or to schedule a consultation, please call (877) 736-6001 or visit us at www.footankleinstitute.com.
At UFAI, we take our patients' safety seriously. Our clinics' and surgery centers' Covid-19 patient safety procedures exceed all CDC recommendations. Masks are required in our institutes at all times.
We are conveniently located throughout Southern California and the Los Angeles area as our foot doctors are available at locations in or near: Santa Monica, Beverly Hills, West Los Angeles, Manhattan Beach, Northridge, Downtown Los Angeles, Westlake Village, Granada Hills, and Valencia, California.
Latest posts by Dr. Bob Baravarian, DPM, FACFAS
(see all)